I have had a very quiet couple of days at the end of this week, so I decided to take the opportunity to transfer from my pocket size Filofax into a larger personal size. I haven't used the personal size since quiting work several years ago, so I didn't have any inserts for it. I have made a few changes and additions from the pages I use in my pockets size, and it was great fun thinking about what I wanted, creating the pages and finally creating some new dividers.
I have for a long time thought how nice it would be to use photographs instead of just pretty pictures for dividers. I think it's a nice way of carrying around a few favourite photos and at the same time making them useful.
I of course just had to use some nice photos of my girls, along with one of Louie. But I couldn't think what to do for the others. I rummaged around my very old, physical photos and decided to use..... No1 (as a dashboard) Myself as at about 2 years old with my Sister Barbara at the age of 14. No2 (6th photo) is of my 9th birthday. All 3 of my Sisters are there, along with Mum, and my niece Beverley as a baby. I am bottom left. No3 (7th photo) is of Mum on her wedding day at the age of 18.
To create the very old photos, because my printer is so complicated and I haven't quite mastered the scanning process, I simply took a photo of the photos with my iPad, increased the pixels by a factor of 400, then printed them off onto card and laminated them. I am really pleased with the finished product.
Click on the image to view full size.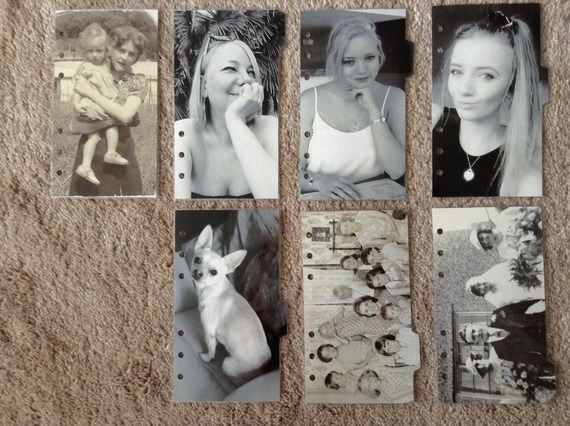 For the inserts I used just the Mac TextEdit to create very simple tables. Once again because I haven't got the hang of using my new printer, I tried and failed to use double sided paper and it's a nightmare trying to line it all up, so each insert is only one sided even if it's a bit of a waste of paper.
It's surprising how long it takes to design and create various pages, but it's all good fun.